PRODUCTION LINE FOR XPS
(Extruded Polystyrene )
FOAM BOARD OF INSULATION(75-200)
CONFIGURATION SUMMARY
SAMPLE LAYOUT PLAN
PROPOSAL EQUIPMENT AND
INFORMATION PACKAGE
CONTENTS
1. CONFIGURATION SUMMARY
2. SAMPLE LAYOUT PLAN
3. PROPOSAL EQUIPMENT
(A) Multiple groups of automatic batching weightlessness type feeding system
(B) 75 Parallel Twin-screw Primary Extruder
(C) High pressure four station leak-proof set of screen changer
(D)CO2 Foaming Agent automatic injection system
(E) 200 Single-Screw Secondary Extruder
(F) Cooling system
(G) Melt static mixer
(H) CO2 special voltage Extrusion Die
(I) Production line work control station and computer operating system
(J)Power distribution cabinet and all electrical appliances for the machine
(K) Leveling traction entirety machine group
(L) Cooling Frame
(M) Vertical milling and Pulverizer group set at a time and cutting machine
(N) Transverse double cutting machine
(O) Longitudinal secondary fine trimming machine group
(P) Transverse trimming machine group
(Q) Stacker Group
(R) Automatic packaging machine group
(S)Recycling Granulating Machine
(T) Collection of Powdered scrap pipeline and bin system
(U)Pre-warning system for the safety of gas concentration
4. EXCLUSIONS
5. OPTIONAL EQUIPMENTS
6. TECHNOLOGY SERVICES
7. TERMS AND CONDITIONS
1.CONFIGURATION SUMMARY:
Raw Materials : GPPS (Virgin and/or Recycled pellets)
Blowing Agents: CO2 and Ethanol
(Third blowing agent – HFCs can be added optionally if necessary)
Throughput: 550-600kg/hr (depending on blowing agent and thickness)
Board Thickness: 20-80mm (CO2+Ethanol) & 80-150mm (CO2+Ethanol+HFC-HC Mix)
Product Width: 1200mm (6).Product Density: 28-35 kg/m3
(7).Layout: 120M (L) x 25M (W) x 7M (H)
(8).Product Flammability: B1 or above
(9). Full automatic control functions including auto-packaging unit and recycling granulator unit
(10).ISO9001/14001 Certified
Our extrusion line is able to use 100% CO2 and Ethanol alone as blowing agents without any Freon, completely replacement with fluorine materials even at startup operation.
As such, it is not only environmental friendly, but also huge cost reduction and savings on XPS board production.
OVERLEAF is the draft layout plan for reference only.



The technology is well-designed by International Professional team according to the
special CO2 foaming technology requiremen
t, which is the same as technical route of Germany Berstorff technical equipment

.
SAMPLE
LAYOUT
PLAN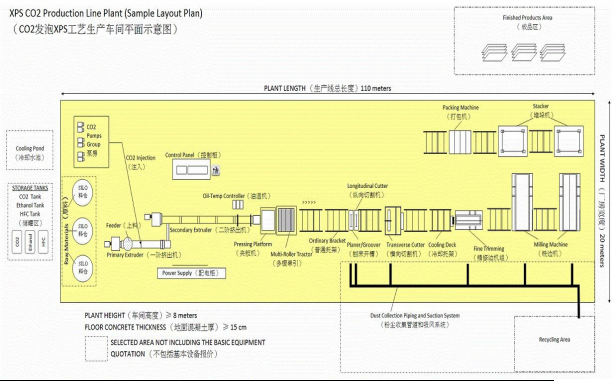 PROPOSAL EQUIPMENT
A. Multiple groups of automatic batching weightlessness type feeding system, Germany Brabender
(Contains conveying system and bracket)
Adopt the five groups of weightlessness batching system from Shanghai Sonner
( Including conveyor system and bracket)
Automatic feeding polystyrene particles in both groups, one group of powder, the capacity is 500 L
Two groups of powder feeding system, they are for manual feeding, capacity is 300 L
Automatic feeding, powder parts equipped with cyclone separation and recoil device
All hoppers adopt 304 stainless steel material, the thickness meet the requirement of maximum negative pressure, powder and hopper internal wall need to do teflon coating
Automatic feeding vertical distance 7 meters, horizontal conveying distance 30 meters, the feeding time is within 10 seconds from lower level to high level
Automatic feeding bunker set high and low level, automatic control, manual bin set alarm on low level
Charging platform using combined removable 3 layers

75 Parallel
Twin-screw
Primary Extruder (Patent
Technology)
1.Special designed for CO2 foaming process requirement, tailored and hardened Gearbox GE-75 with overall high safety factor, maximum torque thrust bearings and output shaft using special forging steel
manufacturing,
to ensure safe operation,manufactured the gear by topology theory, under the rated load for a long time, low noise, the gear stress in
uniformity
The motor adopt 132 kw - 4/220-4 ac ac motor of explosion-proof electric motor, power smooth conveying.
Screw tube processing by horizontal machining center to ensure the high installation accuracy
Screw design is customized according to special CO2 foaming technology requirement, adopting High carbon high alloy Ledeburite high-speed tool steel to process
Water/oil temperature controller, fast and reliable temperature control of heating completed by the high temperature aluminum electric heating system OMRON (Japan)
Melt pressure sensor system
Temperature control system on built-in cooling, copper piping and PLC automatic regulating control valve. OMRON (Japan)
Stainless steel cover shield with cooling holes to prevent accidental contact burns
High
pressure
four
station
leak-proof
set
of
screen
changer (Contains Hydraulic
Station)
CO2 Foaming Agent automatic injection system (Patent Technology)
High pressure low temperature measuring injection pump group workstations
CO2 / LEWA (in watts) Double:
Two groups of domestic ethanol and third foaming agent pump ,domestic double injection:
Flow measurement system, high accurate sensor and controller : Swiss Endress + Hauser three groups of monovalent
Automatic liquefaction plant
Foaming agent static mixer with CO2 Cooling System
Stainless steel high-pressure anti-corrosive connection pipe fittings(Tank to pump room all pipe fittings)
Computer control system
7. Cryogenic delivery pump (A double set of a future use)
8, Buffer high pressure cryogenic tank,(CO2) big tank + secondary buffer tank

200 Single-Screw Secondary Extruder (Patented
Technology)
1, Screw and barrel both made of 38 Cr MOAIA with nitriding treatment and its structure
design in strict compliance with special CO2 foaming technology requirement
surface is plated hard
Cr,
core is equipped with cooling oil way;Low speed with high amount
of
vomit,
500
kg
output
only
five
turns,
low
speed
of
shear
heat
will
limit,
it
is
better to processing flame retardant
products.
2, L/D to 36:1.
3, Drive adopt SIMO 132 kw - 4 ac explosion-proof motor, power under low speed smooth conveying.
4, 500 reducer cooperate for CO2 process of low speed 250 special screw design, high torque, a full set of German FAG thrust bearings.
5, Melt pressure sensor system OMRON (Japan)
6, Explosion-proof safety heating system, heat insulation shield.
Cooling
system:
50 P air-cooled water machine groups + 10 groups intelligent point-to-point bidirectional circulating oil temperature cooling system
Germany's Siemens/OMRON (Japan) and Japanese Sanyo electric appliances and components manufacturing,
Melt static
mixer
(Including the group of oil temperature machine group
CO2 special voltage Extrusion Die :
(Including the three groups of oil temperature control)
1. Special design of runner
2 Thickness are 20-120 - mm, width for 600-900-1200 mm products 3 With intelligent temperature control system:
Tong Sheng
(I)
Production
line
work
control
station
and
computer
operating
system
Production line process of intelligent control in work station, man-machine interface, touch screen, realize the complete process control, data acquisition, fault alarm, data printing
Power distribution cabinet and all electrical appliances for the
machine
Adopt Siemens, ABB, Schneider, and National standard of component assembly.
The above configuration for turnkey project, all using Intelligent circulate in distilled water cooling system, don't need a cooling tower and Circular pool
Leveling traction entirety machine
group
Calibrator consisting of an upper and lower platen, skateboard, screw lift and intelligent temperature control system, Electric hoist ,Angle is adjustable.
Platen specification 1500 * 1200 mm, the center height is 1100 mm, can be processed plate width 600-1200 - mm products.
Control operating system
Traction roll for anti-corrosion galvanized roll.
5. 13 sets of traction motor for 4 kw, frequency control of motor speed.
SIMO/SIEMENS
Power motor is 4 kw, Frequency converter speed control. SIMO/SIEMENS
A pressure buffer device, prevent clogging bounce off device.
Cooling
Frame
(Bracket12groups,specificwillbecustomizedas customer workshop)
Rack welded square tube
Roller galvanized pipe
Customized according to the workshop actual length
Vertical
milling and Pulverizer group set at a time and cutting
machine
2 alloy cutters
2.2 KW ac motor SIMO
Positioning system
Dust collection device port
Transverse
double cutting
machine
Transverse cutting triangular flow knife, double knives double cut design.
Transverse moving motor 1.5 KW * 2.
Longitudinal movement of crawler drive
Cutting length by optical or length switch control. OMRON
Dust collection device port
PLC automatic control. SIEMENS
Longitudinal secondary fine trimming machine group (Lap making, surface planer and groover
,embossing)
Maximum machining width: 1200 mm
1. Cutter quantity: 4
Trimming motor power: 3 kw * 4
Conveyor motor power: 2.2 kw
4, Speed controllerSIMO/SIEMENS
Transverse
trimming machine group (Fine
trimming)
Max processing width: 1200 mm
Cutter quantity: 2
3 Trimming motor power: 4 kw * 2
SIMO
4 Conveyor motor power: 2.2 kw
SIMO
5
Speed
controller
SIEMENS
6 Push board motor power: 0.37 kw * 4
Stacker
Group
1, Palletizing size: 1200-2400 mm * 600 mm * 600 mm 2, Lift motor power: 3 kw
SIMO
3, Transmission motor power: 0.37 kw
4, The speed adjustment way: frequency control of motor speed:
SIEMENS
Automatic packaging machine group (with Heat Shrinkable Film
Palletizing)
Automatic feeding, sealing, conveying
Adopt constant temperature alloy knife, coking, no smoking, sealing knife temperature can be set arbitrary, precise and stable:
Max packing size (L * W * H) : 1200-2400 mm * 600 mm * 600 mm
Recycling Granulating
Machine
(Broken - granulation - air drying convey - storage integration)
SIEMENS electrical console
1st melting screw 290 (Gearbox 350), motor 22kW bySIMO
2nd extrusion screw 125 (Gearbox 350), motor 7.7kW bySIMO
Extrusion die: 340motor ,drive 1.5kW (1430rpm) SIMO
Crusher: motor 15kWSIMO
Pelletizer: 6 rollers, drive motor 1.5kWSIMO
Cooling tank: made of PVC material
Cuttings transport screw: Outer diameter 220mm, motor 4kW frequency control
SIMO
TOTAL EQUIPMENT PRICE
(FOB TIANJIN )USD967,000