Quotation list of PVC edge band extrusion line
| | | | | |
| --- | --- | --- | --- | --- |
| No. | Description | Quantity | Unit price | Price |
| 1 | Highspeedmixingunit | 1 set | 9 000USD | 9 000USD |
| | SRL-Z200/500 | | | |
| 2 | SJSZ-51/105PVChotcutting | 1 set | 20000USD | 20000USD |
| | pelletizing line | | | |
| 3 | SJ-65/25 YF-180 PVC edge band | | 20000USD | 20000USD |
| | extrusion line | | | |
| 4 | Edge band dies, 20*1mm | 1 set | 2000USD | 2000USD |
| | Edge band dies, 20*2mm | 1 set | 2000USD | 2000USD |
| 5 | YBM2240 double color printing line | 1 line | 30000USD | 30000USD |
Total( FOB Qingdao Port, China): 83000USD
High speed mixing unit SRL-Z200/500, 1 set
Item

Description

Unit

SRL-Z200/500

1

Max. Volume

L

200/500

2

Available Volume

L

150/320

3

Vane Speed

rev/min

475/950/110

4

MotorandHeating

Capacity

Kw

30/42/11

5

Water Consuming

t/h

5 (cooling)

6

Gas Consuming

M3/h

0.4

7

Heating Mode




ElectricHeating/

Self-attrition Heating

8

MaterialDischarge

Mode




Manually/

Pneumatically

9

Figure Dimension

mm

4580×2240×2470

10

Weight

Kg

3500

11

Mixing Time and cooling

time

min/ once charge

8-10
SJSZ-51/105 PVC hot-cutting pelletizing line, 1 line

Spring feeding machine ( charger ) type SJF-700
Item

Description

Unit

ZJF-700

1

Feeding Capacity

Kg/h

Max.1000

2

Container Volume

Kg

150

3

Spring Diameter

mm

φ59

4

Feeding Tube and Spring Length

mm

3-5

5

Material Trunk Volume

Kg

200

6

Electric Power




3-380V50Hz

7

Main Motor Power

Kw

2.75

8

Dimensions

mm

950×950×960

Φ820×1550

9

Total Weight

Kg

250
Double-Screw Extruder type GSDZ51/105
| | | | |
| --- | --- | --- | --- |
| Item | Description | Unit | SJSZ51/105 |
| 1 | Output Capacity | Kg/h | Max.130 |
| 2 | Number of the Screws | | 2 |
| 3 | Diameter of the Screw | mm | 51/105 |
4

Rotating Direction of the Screws




Forth & Reverse

5

Rotation Speed of the Screw

r/min

1-34.7

6

Available Working Length of the Screws

mm

1020

7

Main Motor Power

Kw

18.5

8

Speed Adjusting Mode




frequency conversion adjustable, Invertor

from ABB

9

Gear reducer




Rigid-gear surface low noise design

10

Heating Capacity of the Screw barrel

Kw

15 ( casting-aluminium electric-thermal

elements )

11

Material of the Screwsand the barrel




38CrMoAl, bimetallic

12

Nitriding Depth of the Screws and the barrel

mm

0.5~0.7

13

Nitriding rigidity of the Screws and the barrel

HRC

50~55

14

Cooling Mode of the Screw barrel




by air cooling

16

Indicators




Temperature indication by gauge

17

Temperature controllor




Brand: OMRON, Japan

18

Element of Electric System ( contactors,

buttons, switches )




Brand:Schneider

19

Power of the Vacuum Pump

Kw

1.5

20

Max. Vacuum Degree

MPa

-0.093

21

Cooling Water Consumption

L/min

1~3

22

Plastic Material Feeding Mode




By Fixed-quantity Screw

Feeding Device

23

Rotation Speed of the Feeding Screw

R/min

3.5~47 ( frequency conversion )

24

Height of the Screw Axes

mm

1000

25

Figure Dimensions ( L×W×H )

mm

4135×1320×2150

26

Weight

Kg

3000
Pelletizing Machine1 set
| | | |
| --- | --- | --- |
| Item | Description | Data |
| 1 | Motor Power | 1.1 kw |
| 2 | Speed Adjustment | Converter Adjustment |
| 3 | Moulds Materials | 45# Steel |
| 4 | Pelletizing Knife Structure | One Rotating Knife with Multi Blades |
Air Blowing Transport Device1 set
| | | |
| --- | --- | --- |
| Item | Description | Data |
| 1 | Motor Power | 4 kw |
| 2 | Materials | Stainless Steel |
Storage Silo1 set
| | | |
| --- | --- | --- |
| Item | Description | Data |
| 1 | Silo Volume | 1 m3 |
| 2 | Materials | Stainless Steel |
| 3 | Discharging Mode | Manual |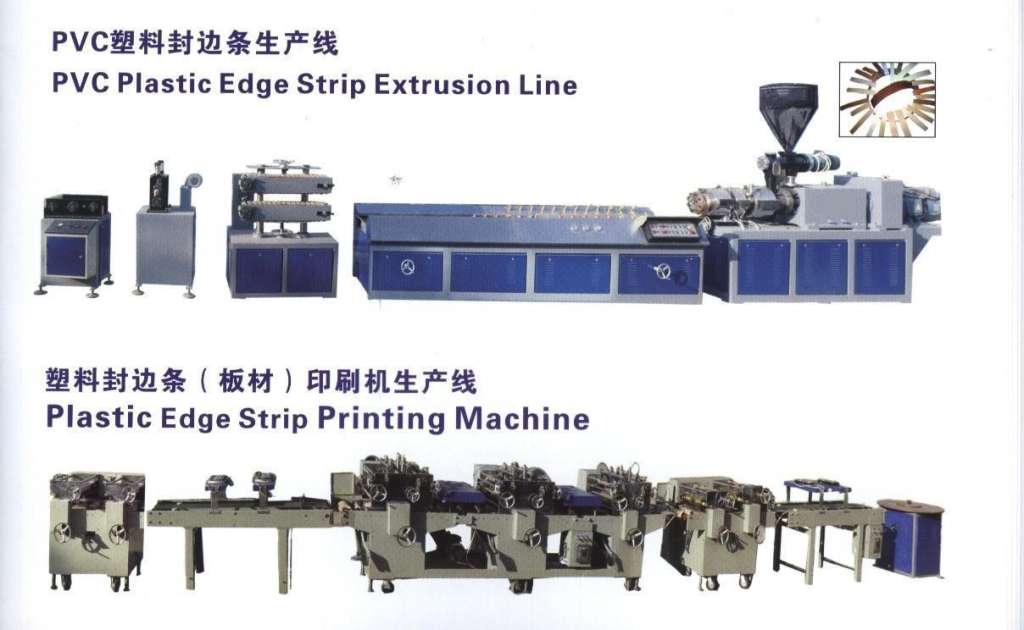 SDFJ65/25 YF-180 PVC edge band extrusion line
Vacuum material loading machine and drying cooper, 1 set
Single screw extruder SJ-65/25
Item

Description

Unit

SFTJ-65/25

1

Output Capacity

Kg/h

40-60

2

Number of the Screws




1

3

Diameter of the Screw

Mm

65, LD=25:1

5

Main Motor Power

Kw

11

6

Speed Adjusting Mode




Frequency conversion ABB

7

Gear reducer




Rigid-gear surface low noise

design

8

Heating Capacity of the Screw barrel

Kw

10

( casting-aluminium electric-thermal elements )
9

Material of the Screwsand the barrel




38CrMoA1

10

Nitriding Depth of the Screws and the

barrel

Mm

0.5~0.7

11

Nitriding rigidity of the Screws and the

barrel

HRC

50~55

12

Cooling Mode of the Screw barrel




by air cooling

14

Temperature controllor




Brand: OMRON, Japan

15

Element of Electric System

( contactors, buttons, switches )




Brand:Seimens

17

Height of the Screw Axes

mm

1000

18

Figure Dimensions ( L×W×H )

mm

2590×1000×1500

19

Weight

Kg

1000
3.3 Vacuum Calibration Table
| | | | |
| --- | --- | --- | --- |
| Item | Description | Unit | |
| 1 | Length of the Table | mm | 2000 |
| 2 | Material of the Tank | | Stainless Steel |
| 3 | Vacuum Pump Power | Kw | 1.5 |
| 4 | Water Pump Power | Kw | 1.1 |
| 5 | Up-down Adjusting Range | mm | ±40 |
| 6 | Left-right Adjusting Range | mm | ±40 |
| 7 | Axes Line Height | mm | 1000 |
3.4. Haulling-off Machine roller model
Item

Description

Unit




1

Hauling Motor Power

Kw

1.5

2

Hauling Moving Speed

m/min

2-15 m/min

3

Speed Adjustment




Frequency Conversion Brand Japan

ABB

4

Axes Height

mm

1000

5

Element of Electric System




From SIEMENS
3.5 Glue spreader, 1 set
3.6.Embossing Machine
| | | | |
| --- | --- | --- | --- |
| Item | Description | Unit | |
| 1 | Manner of Polishing | | Roller Style |
| 2 | Motor Power | Kw | 1.5 |
3.7Double station winder
| | | | |
| --- | --- | --- | --- |
| Item | Description | Unit | |
| 1 | Working method | | Pneumatic |
YHGBM2240 double color printing line

Technical data:
Printing width

Max. 240mm

Printing speed

0-30m/min(adjustable)

Printing thickness

1-50mm

Quantity of printing color

2 colors

Driving motor power

0.75kw/each group

UV power

6kw

Dimension

(Length×Width×Height)




6000×1000×1600mm
PART
II
PAYMENT,
DELIVERY AND
ORTHERS
Payments terms: 40% prepayment by T/T after signing of sales contract and 60% by T/T after accepting in the SELLER's factory.
Delivery time: 40 working days
Guarantee time: within 12 months after starting.
Acceptance of total line: The SELLER will inform the BUYER to send
inspectors
to
the
SELLER's
factory
for
training
and
accepting
machinery.
Installation and starting: The SELLER can send 1 engineer to the BUYER's factory to install the machinery, and train the workers if need. The buyer should bear the cost of airtickets, hotel and food, and 80 USD for each engineer.
Transporting method: by 2 40-f container by sea from Qingdao port, China. Technical documents: instruction book, electrical drawings, in English.