FLOOR MAT Production Line
Flow chart
Equipment
Summary of production line
After-sale service
Testing standard
Quotation
100-150KG/H CAPACITY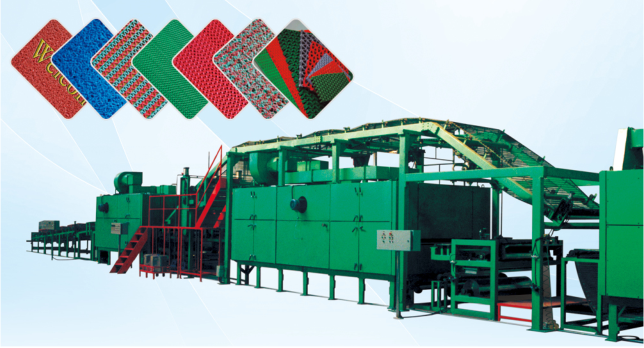 1. Flow chart

2. Equipmentaa
2.1 Single-screw extruder
Screw diameter: 120 mm
L/D ratio: 30:1
Main motor power: 110kW, DC motor to adjust speed, Eurotherm speed regulator
Heating power: 67.5kW
Temperature control: Fuji temperature controller
Screw and barrel cooling method: fan cooling
Heating: 7 zones
Extrusion capacity: 150~200kg/h
Heat induction method: thermal resistance
Heater: cast aluminum heater
Material of screw and barrel: 38CrMoAl nitride treatment
2.2 Hydraulic screen changing device
It adopts two work position screen changer, tube type inside heating.
Die head and mould
It adopts coat hanger type flow passage, damping block adjusting, inside heating rods, equipped with two moulds to make different specification products.
Forming device
It adopts frequency conversion to adjust speed, electromotive lift structure and water level automatic cycle control device.
Water removal device
It adopts blowing device to remove the water.
Coil conveyer
It adopts frequency conversion to adjust speed, steel pipe type conveying belt.
Base forming machine
It adopts roll scraping type, scraping width and thickness can be adjusted.
Oven 1
It adopts pneumatic diaphragm valve to control temperature for base foaming.
2.9 Gluer 1
It adopts frequency conversion to adjust speed.
2.10 Oven 2
It adopts pneumatic diaphragm valve to control temperature for the compound of coil and base.
2.11 Main driver
It adopts frequency conversion to adjust speed, fore-and-aft deviation rectify function, conveyer accumulation and tension device, pneumatic control.
2.12 Cooling machine
It adopts air barrel for cooling.
2.13 Edge trimmer
Haul-off adopts frequency conversion to adjust speed, edge cutting adopts hobbing cutter.
2.14 Winding platform
It adopts manual winding.
2.15 Electric control cabinet
It adopts import inverter and temperature controller.
3. Summary of production line
Product width: 1200mm
Product thickness: 8~18mm
Speed: 0.4~1.2m/min
Outside dimension: 35000×4500×4000mm
Electric power requirement
Power capacity: 280kW/380V, 3-phase, 4-line
Heat resource requirement
Max heat supply: 180kW
Max temperature: 260℃
Conductive medium: heat transfer oil
Note: Boiler is prepared by customer.
Air resource requirement
Pressure: 0.4~0.8MPa
Air compressor: 0.6~1.2m3/min
Note: Air compressor is prepared by customer.
Cooling water requirement
Pressure: 0.1~0.4MPa
Flow quantity: 0.3~0.4 m3/min
Circulating water temperature: below 40℃
Water quality: noncorrosive
4. After-sale service
4.1 The guarantee period is 1 year and service is available lifelong. The cost caused by the seller's expert in customer's country (including shuttle trip ticket between China and the Buyer's, inland traffic, medical fees, lodging, dinner and so on) and the cost of the materials of the components will be covered by the buyer, but during guarantee period, the cost of the components will be covered by the seller.
4.2 Under the right operation way, the quantities screw and barrel is for 10000 working hours.
4.3 Our expert will answer any inquiry within 24-48 hours and it will be solved as soon as possible.
4.4 The customer can send the engineer to our factory with training.
4.5 The Seller supplies the complete technical support documents and the relative drawings of the electric components written in Chinese and English.
4.6 The seller can send enough technicians to the Buyer's company for installation and testing the lines.
4.7 List of the spare parts (Please see the list of spare parts)
5. Testing standard
5.1 The acceptance standard of the good is fully accorded to the Company Standard of China Chemical Machinery International Co.,Ltd
5.2 The Seller supplies operation manual for main extruder and accessory equipment and the principle drawings for the electric components.
6. Quotation
USD 204, 500.00, FOB Dalian(Sea port in north of China)
Delivery time: 120 days from the receipt of down payment.
Payment: 30% down payment by T/T, 70% before shipping by T/T
Start-up: included
Warranty: one year
Offer Valid: 30days
Offer Date:
We hope, our quotation includes all your required information and look forward to your comment. Please feel free to contact us at any time for further questions and our assistance.