PVC FLEX BANNER PRODUCTION LINE

Flow
chart
Equipment
Equipment detail
Summary of production line
After-sale service
Testing standard
Quotation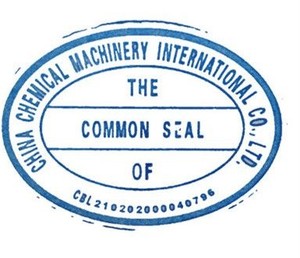 1200-1500KG/H CAPACITY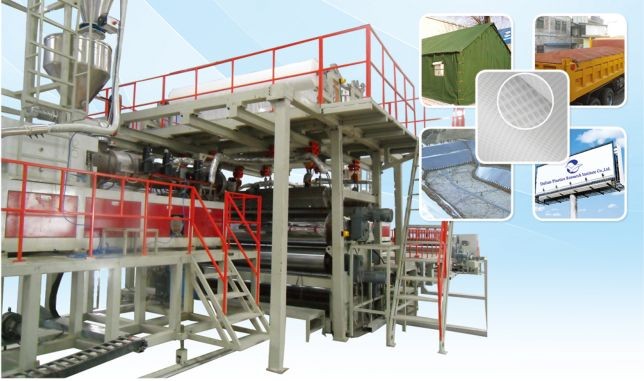 1. Flow chart


2. Equipment
2.1 Automatic mixing and loading device1 1 set
( Discharging, Measure, Mixing, Screen, Convey)
2.2 Φ92 Cone twin screw extruder; 2 sets
2.3 Mould 2 sets
2.4 Forming device 1 set
2.5 Unwinder 2 sets
2.6 Cooling, haul-off and trimming cut device 1 set
2.7 Accumulator 1 set
2.8 Two work position automatic winding 1 set
2.9 Unwinder, slitting and rewinder device(Optional) 1 set
2.10.Crusher(Optional) 1 set
2.11. Electrical controller 1 set
3. Equipment detail
3.1. Automatic mixing and loading device

3.1.1. Discharging:Powder discharging station 4 sets
Liquid pump station 1 set
3.1.2. Measure:Automatic convey and measure device 1 set
Conveying fan 7.5KW
Weigher scale span accuracy: ±5‰
3.1.3. Mixing:300/600L high-speed mixer 2 sets
High-speed mixer volume: 300L
Double speed motor: 47/67KW ;
Cooling blender volume: 600L
Motor power: 15KW;
3.1.4. Screen:Round vibrating screen 2 sets
Screen diameter:1000m
3.1.5. Convey:Negative pressure suction device 2 sets
Fan power:5.5kw
Conveying distance:20M
3.2. Φ92 Cone twin screw extruder 2 sets
Diameter: 92/188mm
Effective length:2800mm
Speed:0~34.7ral/min
Material of barrel and screw:38CrMoAl, nitride treatment, thickness is 0.5~0.7mm,screw surface is chromed and polished, roughness is 0.04μm
Main gear box:hard surface, low noise, high carrying capacity
Main motor power: 110kW, direct-current motor, ABB or Fuji inverter
Heating power:68kW, 5 zones automatic temperature control
Cooling system:screw core adopts circulating heat conductive oil cooling, barrel adopts fan cooling. Fan power is 0.55kW×4
Vacuum exhaust device:water ring pump, motor power is 5.5kW
Screw auto-feeder:motor power is 1.1kW, frequency conversion to adjust speed
Die head setting:high temperature melt pressure sensor
3.3 Mould 2 sets
It adopts coat hanger structure, gap between lips can be adjusted, inside heater, chromeplating treatment to ensure no leakage.
Mould width:3600mm
Thickness range:0.1~0.2mm
Mould material:5CrNiMo steel
Temperature control:19 zones, Fuji or RKC temperature controller and sensor
3.4 Forming device
It consists of helical flow passage mirror surface roll and silica gel roll etc. Laminating roll adopts direct-coupled decelerator frequency conversion motor to drive, inverter to adjust speed, equipped with roll temperature control system.
Laminating roll diameter:600mm
3.5. Unwinder
Two work position, cloth and film unwinding at the same time, equipped with constant tension device and 3 airs-expand shafts.
3.6 Cooling, haul-off and trimming cut device
It consists of many rolls for cooling, double-roll haul-off, frequency conversion motor to drive, frequency conversion to adjust speed, vertical type trimming cut and waste edge collection etc.
Cooling power: 3kW
Haul-off power: 2.2kW
3.7 Accumulator
It adopts balancing out type accumulator,
Cloth storage length: 40m
3.8 Two work position automatic winding, fixed-length cutting device
It adopts roll-over two work position automatic winder, equipped with meter counter and fixed-lengthcutting device.
3.9 Perching splitting machine (Optional)
It consists of unwinder, lamp house perching platform, splitting device, winder and packing platform, which split and pack the product to specific specification.
3.10 Crusher (Optional)
Crushing capacity:130-230kg/h Auxiliary material mixing machine (Optional) 200L high speed mixing machine
Motor power:30/42KW
3.11. Electrical control system
Switch and relay:Siemens or Schneider brand.
Temperature controller:FUJI, RKC or Delta brand.
Inverter:ABB or domestic brand
Operating position equipped with scram protection device.
4. Summary of production line
Product thickness:0.25~0.5mm
Power capacity:About 800kW
Supply voltage:3 Phase 380V50Hz Cooling water temperature:≤35℃
Cooling water flow:20m3/h
Compressed air:2 m3/min 0.6~0.8MPa Dry compressed air
Mainbody outside dimension(L×W×H): 26000×8000×6500mm
Mixing part outside dimension(L×W×H):8000×7000×10000mm
Color:Gray(as instrument) , orange (heating and safety part).Special requirements should be stated in greement.
5. After-sale service

5.1 The guarantee period is 1 year and service is available lifelong. The cost caused by the seller's expert in customer's country (including shuttle trip ticket between China and the Buyer's, inland traffic, medical fees, lodging, dinner and so on) and the cost of the materials of the components will be covered by the buyer, but during guarantee period, the cost of the components will be covered by the seller.
5.2 Under the right operation way, the quantities screw and barrel is for 10000 working hours.
5.3 Our expert will answer any inquiry within 24-48 hours and it will be solved as soon as possible.
5.4 The customer can send the engineer to our factory with training.
5.5 The Seller supplies the complete technical support documents and the relative drawings of the electric components written in Chinese and English.
5.6 The seller can send enough technicians to the Buyer's company for installation and testing the lines.

5.7 List of the spare parts (Please see the list of spare parts)
6. Testing standard

6.1 The acceptance standard of the good is fully accorded to the Company Standard of China Chemical Machinery International Co.,Ltd
6.2 The Seller supplies operation manual for main extruder and accessory equipment and the principle drawings for the electric components.
7. Quotation

USD 845,500.00,FOB Dalian(Sea port in north of China)
Delivery time:days from the receipt of down payment.
Payment:30% down payment by T/T, 70% before shipping by T/T

Start- up:included Warranty:one year Offer Valid:30days Offer Date:
We hope, our quotation includes all your required information and look forward to your comment. Please feel free to contact us at any time for further questions and our assistance.